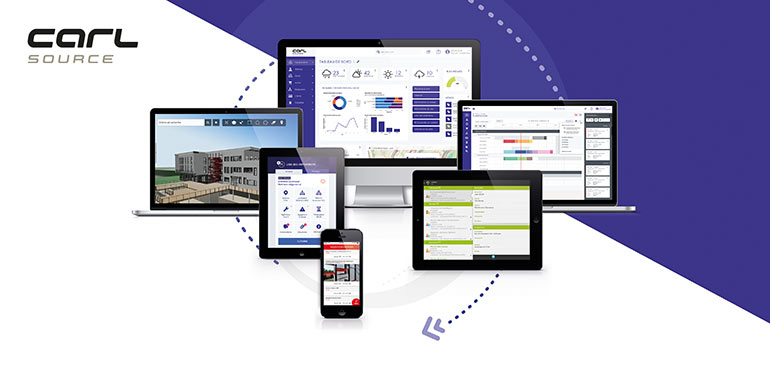 Management tools such as CMMS are designed to help manufacturers meet the technical and economic performance challenges of maintenance management. Equipped with business functionalities and innovations based on the Internet of Things, mobility and BIM, CMMS support maintenance professionals in their continuous improvement process and accelerates their entry into the world of industry 4.0, Smart Building, etc.
During this webinar, you will learn how to dematerialise maintenance processes, from sending work orders to drawing up work reports, using the mobile applications CARL Touch, CARL Express and CARL Flash. You will learn the advantages of a (carto)graphic integration in a CMMS with CARL Maps, CAD and BIM. Furthermore, you will learn about predictive maintenance in an IoT platform dedicated to maintenance activities.
 
Program
About CARL Berger-Levrault Benelux
The CARL Source Factory software and its mobile applications

CARL Touch: a mobile CMMS solution on smartphone or tablet
CARL Xpress: an application for technicians and service providers
CARL Flash: an application for service requests

Live demonstration of the CARL Source software
Innovations in CARL Source 6 for the industry of the future
 
About the speakers
Xavier Foti is a pre-sales consultant working to help you discover the CMMS solution CARL Source, and the mobile apps CARL Touch, CARL Flash and CARL Xpress. His goal is to find solutions to reach yours and make our solutions your own – fitting your needs.
Alexandre Grutering succeeds Thierry Hoffait and joins CARL Berger-Levrault Benelux as Country manager, in order to take charge of the commercial development of the Belgium subsidiary. Alexandre Grutering has a diploma in accounting, and an Executive Master in management from the Solvay Business School in Brussels, so far he has ensured the commercial development of several groups, including Alters Dun & Bradstreet, the credit insurance group global Atradius, thus operating in various sectors.
Practical details
Timing
13h45 Welcome on the BEMAS Live Learning Platform
14h00 Start of the webinar
16h00 End
Spoken language: English
Organized together with:
About the BEMAS Live Learning Platform
The live learning platform of BEMAS works on the basis of html5 technology which is standard in all modern browsers. Installation of an app or plug-in is NOT necessary.
What you need to provide yourself:
PC, Laptop or tablet with internet connection and sound.

Preferably use Google Chrome as a browser. Mozilla Firefox, Safari and Edge also work.  Internet explorer is not suitable. You can test your for html5 compatibility in advance.

We strongly recommend using a headset (earphone with microphone) to avoid background noise as much as possible.
If you wish, you can discover how the distance learning cloud of BEMAS works by means of a youtube video. You can also log in and test (possibly together with colleagues) on this demo environment.
More information can be found here.